About TENSION CONTROL


TENSION CONTROL - the 2016 in Germany founded project impresses with fat analogue synthesizers. Marching direction is EBM of the old school. DAF, Die Krupps and Nitzer Ebb send their regards! All composings, sounds and (German and English) lyrics were made by Michael Schrader, who is based in Hamburg since 2018, is also the singer of TENSION CONTROL.


The first album Im Rhythmus der Maschinen (2017) reached the number 1 of the DEUTSCHE ALTERNATIVE CHARTS.


In 2018 the band went on the Machinists United Tour across Europe with FRONTLINE ASSEMBLY and DIE KRUPPS. Around this great event some support shows took place. For example DAF in Hamburg and APOPTYGMA BERZERK in Oberhausen.


Next to other small festivals TENSION CONTROL opened the Sunday of the most important event in Europe - the FAMILIENTREFFEN.


In 2019 the 2nd studio album Fortschritt durch Technik has been released and was again well received and succesful in the DAC. The album followed up the digital only released Single Big Black Boots. In 2020 two more single has been released digital only. In neuem Licht and Krank krank.


Ton aus Strom, the 3rd studio album came out in November 2021. It's more powerfull and angrier than the predecessors. It has been written and produced under the impression of the Corona pandemic and the impressive failures of governments and authorities.


2022 ist the year for a reunification! Under the flag Machinists Reunited TENSION CONTROL will be again on the roads accross Europe with FRONTLINE ASSEMBLY and DIE KRUPPS.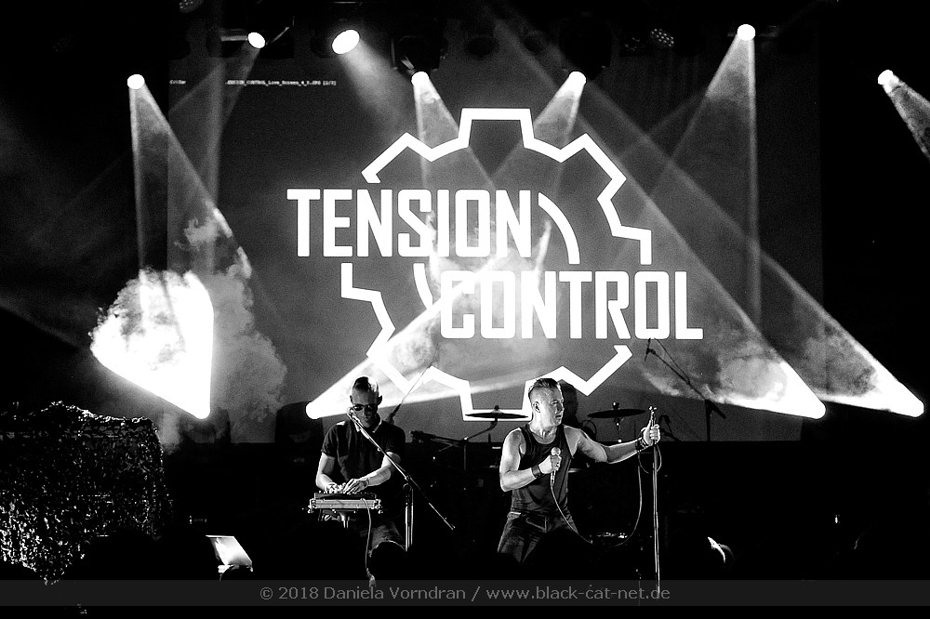 Booking

Please send booking requests via mail to the adress at the bottom of this page. Many thanks in advance!
Releases

ALBUM Im Rhythmus der Maschinen, released 2017 via BRANDSATZ Records
ALBUM Fortschritt durch Technik, released 2019
SINGLE (Digital only) Big Black Boots, released 2019
SINGLE (Digital only) In neuem Licht, released 2020
SINGLE (Digital only) Krank krank, released 2020
SINGLE (Digital only) Ahoi Herr Kommandant, released 2021
ALBUM Ton aus Strom, released 2021
SINGLE (Digital only) Form folgt Funktion, released 2022

All records can be found on Bandcamp.com or all common streaming platforms. Albums were released physically on CD.
https://tensioncontrol.bandcamp.com/merch
Impressum

Michael Schrader, Dürenackersweg 26, 22523 Hamburg
+4917681021597



www.tensioncontrol.de // www.tension-control-ebm.de // www.tension-control-ebm.com
Datenschutzerklärung
https://www.facebook.com/tension.control.ebm
https://www.instagram.com/tension.control
https://tensioncontrol.bandcamp.com/merch